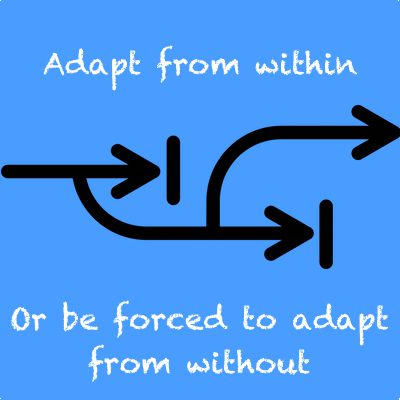 Today we all have a choice: We can take risks and actions to ensure that we adapt with the constantly changing times or we can hope for the best and do nothing. Adapt from within or you may be forced to adapt from without. Are you ready? #Adaptation
This is the latest "instigation" from Linda Rottenberg as part of a really cool program I'm involved in during the moth of December to envision how I will try to do "business as unusual" in 2017. If you're interested, check it out – there's still time to join me on this Quest. I've been writing a lot in response to these prompts (this one is #8), but sometimes they're more personal and end up in the private Quest 2017 Facebook forum. But sometimes an instigation like the one above, fits so well with what is asked of new parents, that I feel compelled to share the response here.
I can think of no other time in my life where I've had to adapt more than when I first became a parent. Starting in pregnancy I felt like I had to adapt constantly month by month, week by week, day by day, hour by hour, and so on…
We are creatures who appreciate the usual, our known norm. We like having expectations about how our lives will flow from one day to the next because it allows us to wake up in the morning and get on with our day.
If the world was an uncertain mess (which, really, it kind of is) and we focused only on the not-knowing-what-to-expect-ness of it all, we'd likely become paralyzed – doubt, fear and concern about what's going to happen next weighing us down.
I was incredibly sick with my first pregnancy. I threw up about 10x a day until I was sixteen weeks along. I lost fifteen pounds during that first trimester. I had to adapt, and adapt quickly, to this huge change in how I felt all day, every day, until my body finally decided that the "foreign body" growing inside of me was not my mortal enemy and we could co-exist without attacking one another. It wasn't easy!
Then I had to adapt to the fact that once I could eat, I wanted to eat EVERYTHING not nailed down. I made up for lost time, that's for sure! I ended up gaining 45 pounds over my starting weight (which really means, I gained 60 pounds if you count the original fifteen that I'd lost due to all my puking!) and I had to adapt to my ever-expanding and changing body as the baby took up more and more space, making it harder to breathe and move about in the world.
I had to adapt to having to pee every 15 minutes throughout the day (and night!), and eventually I had to adapt to start eating Tums before, during and after every meal because I could never be sure what would trigger my intense heartburn.
Toward the end of my pregnancy, I had to adapt to wearing a belly band because my round ligaments were so tired of trying to hold up my belly throughout the day. Finally, in the last weeks of my pregnancy, I had to adapt to crawling or being carried up the stairs at night when it was time for bed because my sciatica would shoot searing pain down my backside.
Know this: expectant Mommas are ALL about adaptation!
The process of carrying a baby in our own bodies, forces us to adapt from within from the earliest days of our pregnancy. And in this way, we have both an advantage and disadvantage over our non-pregnant partner.
How is this a disadvantage? Puh-lease. Re-read paragraphs 6-9 above if you haven't already figured this out… All of the physical and emotional changes that happen during pregnancy can be incredibly challenging. And I'm going to say it – sometimes, pregnancy sucks! Not everyone loves it all of the time, and some of us really don't like it much at all. Pregnancy takes it's toll on us as women, but we often don't even acknowledge this.
We just – adapt.
We keep going. We roll with it. We throw up right before teaching a class, hold it together for two hours, say goodnight to our students and make it to the bathroom just in time to throw up again after they've left.
But this also is where we have an advantage over our partners. We've been adapting for nine+ months before the baby arrives. We've already gotten a taste of what's to come, what will be asked of us as new parents – because we've already been doing it for a really long time. This means that we're a tiny bit more prepared than our partners might be for the rapid fire adaptation that is a requirement once our baby is ex-utero.
Today's prompt states that today we all have a choice: we can take action in order to adapt to changing times, or we can hope for the best and do nothing.
But in new parenting, I'm not sure that there really is a choice! You must either adapt (and quickly!) on your own, or your little six pound peanut will make sure you adapt in order to satisfy their needs for survival. There really is no "hoping for the best and doing nothing" option when it comes to your role as a new parent. But by the end of "The 4th Trimester" it's hard to remember what life was really like before the baby came.
Those first three months are intense and packed with so much to learn in such a short period of time. It's hard to take stock of how many different ways you've adapted to this new role of parenting because even though at twelve weeks in you might feel like you're no longer crawling through the trenches of new parenting, it never really ends.
You really are amazing, you know that?
As a new parent, you're learning hundreds of new skills each and every day, applying them and testing them out in real time. Sometimes with great success! Sometimes? Maybe not so much. But either way, you should be super impressed with your overall ability to adapt to this new role as well as you have.
It's not easy to become a whole new person, while caring for a whole new person, and being in relationship with a whole new person. Navigating this new terrain is challenging, to say the least. But it's not something you can just refuse to do. It's required of you. This is your new normal, your new reality.
Adaptation will become your constant companion. 
Because this parenting gig is based on a relationship. A relationship you share with your child –  someone who is changing and adapting to their own environment as they grow and develop from a wailing and hangry newborn, to a cooing and babbling infant, an unsure and unsteady toddler, to a walking, talking, running child, an independent and sometimes sassy youth, to eventually end up a distinct individual with their own thoughts, feelings and passions (that may or may not match up with your own.)
Adaptation will be necessary even into adulthood because you're both forever changing from one day to the next. Adapt from within or you may be forced to adapt from without. Are you ready?
How can I help you?
I'm asking this question because I really want to know how I can better serve the people I care so much about: parents.
As part of my personal and professional Quest, in the coming year I'd like to make some adaptations, as well. I've got a few ideas of my own that I'm considering… a newsletter, podcast, live Q & A sessions, an interview series with leaders in the fields of pregnancy, birth and parenting.
But I really would love to hear what you would like to find here on my blog. How can I help you adapt better in these constantly changing times? Please help me, help you – and share your ideas and comments with me here by answering this super quick survey. Thanks so much!
Named one of "America's Best Leaders" by U.S. News and one of TIME's 100 "Innovators for the 21st century," Linda Rottenberg is considered among the world's most dynamic experts on entrepreneurship, innovation, and leadership. Ms. Rottenberg is author of CRAZY IS A COMPLIMENT: The Power of Zigging When Everyone Else Zags and co-founder and CEO of Endeavor, the world's leading organization supporting high-impact entrepreneurs. A graduate of Harvard University and Yale Law School, Linda lives in Brooklyn with her husband, author and New York Times columnist Bruce Feiler, and their identical twin daughters.
Twitter: @lindarottenberg