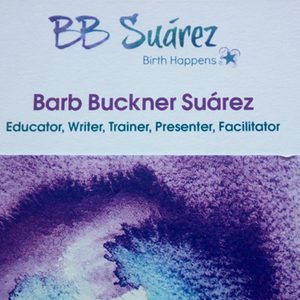 Who knew that building a website would feel so similar to being pregnant and giving birth? (Only every other person who's ever built a website before — Duh!) It's no coincidence that I began building this website nine months ago. It would be a cliché, if it weren't true!
I started this blog, Birth Happens, on September 12, 2014, three years and three days ago. And the reason I began writing this blog can be boiled down to one word: Impatience.
I may have mentioned (here, here, and here) how I have a love-hate relationship with impatience. Impatience makes it harder than hell to raise a child when they turn three years old! I have zero patience for "I can do it myself!" and "I don't need your help!" Yet it's this same impatience that allows me to get so much stuff done on a day-to-day basis. So I can't really say that my impatience is always negative.
This blog was started because I was so impatient that THE BOOK wasn't written yet!
To be clear, when I began writing THE BOOK, I'd never written anything other than school essays and such. A whole year had gone by since I first put THE BOOK idea out into the universe, capturing loose words and turning them into coherent sentences… How could writing a book take so long?!
(Those of you who are writers can stop laughing now.)
I realize something that I had no concept of back then. It's not enough to want to write a book, you need to know how. And you can only learn how to write a book through the practice of writing. Period.
My book whisperer, Jeffrey Davis, is a good man. The best kind of man. The sort of man who sees potential, passion and promise in a person, but is real enough to let them know that overnight successes don't happen very often. He leads by example to show how effort is rewarded and that most great things are worth the wait. 
So when I complained in frustration, "It's been a year, already! This book should have been written by now!" Jeffrey didn't laugh at me. He didn't even smirk at my complete naiveté. Instead, he made an incredibly insightful and helpful suggestion: "Start a blog." Jeffrey knew that for me (and my impatience) being able to hit "publish" on a regular basis would allow me to feel like I was moving forward with my writing.
He also knew it would be extremely helpful for me to learn to love editing and how to wrangle my far-flung ideas into 1,000 – 1,500 word short essays. Jeffrey knew that I would find my voice and my message if I practiced finding it over and over again in this blog.
And, I think it's worked!
Sometimes, I'm faithful and write on a more regular schedule. Sometimes, I'm long-winded and write more than a thousand words! But keeping this blog has allowed me to figure out what I stand for, who I stand with, and ultimately what THE BOOK will be about. That could have only happened over time.
This past May, I had my first (and hopefully, last) panic attack in the middle of the night after hearing that a second Momma from my kids' school had died of cancer. Earlier, my husband and I toasted these two women as we sat in the whiskey bar in the lobby of our hotel trying to celebrate our 21st Anniversary. Another Momma had left this world too soon, her babies not yet grown.
It was, and is, heartbreaking to imagine their beautiful lives cut short. I felt the weight of all that it would mean for these children to not have their Mommas in their lives. To no longer feel their comforting touch, listen to their soothing voices, to lose out on all of the lessons these women would have provided them as they moved into adulthood — and I freaked out!
I woke up in the wee hours of the morning with my heart pounding in my chest, pulse racing, and sweat pouring off of me. Amidst the sorrow for the loss of these two women, a thought started playing on repeat in my mind: "You'll never finish THE BOOK, Barb! You haven't even looked at it for the past 18 months! What's wrong with you? Life is short and You.Are.Never.Going.To.Write.Your.Book!"
Thankfully, given my training as a Childbirth Educator, I was able to recognize that I was having a panic attack. I called upon the most important comfort technique for birth —breathing. Deep, slow, belly breaths "In – 2, 3, 4 and Out – 2, 3, 4" became my middle of the night mantra and within a few minutes I was calm. And also slightly horrified at my own selfish thoughts about writing a book when two women had lost their lives!
Then something "woo-woo" happened. I felt as if this panic attack was some sort of gift from these two Mommas. I felt like I was being told to switch gears completely and shelve THE BOOK and shift my writing focus to what I was experiencing that moment in the dark — the sheer terror of vulnerability that is mothering. That thought of, "Oh my God – what was I thinking? I'm responsible for this little person's LIFE. What if… what if… what if…?"
At that very moment, a sudden sense peace came over me as I realized THIS is what I'm called to write about. And to some degree, it's what I've been writing about in this blog all along.
As humans, we're primed to think that vulnerability is always a bad thing. Being vulnerable will reveal our weaknesses. Allowing ourselves to be vulnerable with others opens us up to attack. Vulnerability only leads to isolation and pain.
But what I've discovered is that vulnerability is the key to connection — to ourselves and one another. I know of no better way to practice embracing vulnerability than through the work of pregnancy, birth and parenting.
I sat bolt upright in bed, trying not to disturb my husband sleeping beside me, and grabbed the only writing device I had — my phone — and went into the bathroom. I turned on the light and started writing feverishly. It was 4 am when I crawled back into bed, so grateful for this flash of insight into what I'm really supposed to be writing about.
I'm not going to trash the 70K words I've already written. I'll keep them and someday, I might even publish a version of these words. But only after a lot of editing! Now, I can see that each one of those words, and the words written here on my blog have all been necessary practice to get me to this point.
And what point is that, exactly?
Well, I'm not going to be hiding behind my blog anymore! For the past nine months I've been working with a web-hosting/design team to transform my blog into an actual website. The blog will still be an important part of the website, for sure. But there will also be lots of pictures — of me! My name (or a version of it) will be the domain site url! People will be able to read the story of how I came to be working in this field that I'm so passionate about! My services coaching parents, mentoring other educators and professionals, and giving presentations will be available for hire! And what I believe about pregnancy, birth and parenting will be on full display!
I'm feeling vulnerable, people! Talk about practicing what you preach!
The official launch will happen later this month. I'm taking baby steps right now and I've asked folks who know me well to take a look at the site and provide me with feedback before I go live. 
The goal is to have zero typos and grammatical errors, as well as making sure my message is clear and my offerings make sense so I can have greater impact in this field. My hope, dear reader, is that when the website goes live, I can count on you to be one of my goodwill ambassadors and share it far and wide with anyone who would appreciate it!
Pregnancy, birth and parenting aren't getting any easier. It's always been the most challenging job a person could ever sign up for! I believe that despite (or maybe because) so much information is available, coupled with the pressure to make all the "right" decisions, it's harder than ever before! Feelings of vulnerability around these issues remain and likely, always will remain.
So how can I help with that?
Through my classes, my coaching, and my writing I strive to be a voice that encourages parents — expecting, new and veteran, alike — to find comfort while also embracing the burden and blessing of vulnerability that's a normal part of parenting. In order to do this more broadly, it's time to "put myself out there" via the website so more people can find me. I hope you'll help me connect with those who are looking for this message.
In the meantime, I feel like I'm about 37-38 weeks pregnant for the first time.
There's this weird mix of excitement and fear underscored by a deep desire to just get it over with already! I'm not quite sure what to expect on the BIG day of the launch, but it's the reality of the weeks and months to come after my website-baby is born that I need to focus my attention on. There are some things that I already know how to do, but there are a lot of unknowns.
I choose to lean into these feelings of vulnerability instead of running from them. I'm absolutely sure that this experience will not be perfect — nothing ever is. But I also know that the biggest potential for transformation and connection lie in my willingness to embrace these feelings and wait with openness and wonder for what comes next.
I'll post more in the weeks to come about the new website and "activities" leading up to the launch. Thanks for helping me birth this baby. Let's do this!