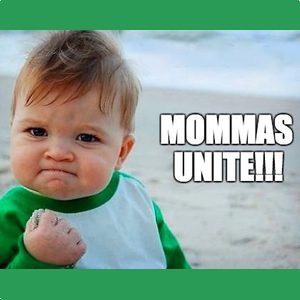 Okay, I'm not opening myself up for a debate about who works harder, or whose children benefit more, or any other divisive angle you can think of in the world of Mommas… I'm just stating the obvious: being a Momma is hard work — regardless of whether you're juggling the demands of full-time employment outside of the home with your Momma duties, or if you're in full-time Momma-mode taking care of your kiddos at home, or if you find yourself doing something in-between…
But I HAVE to write a post today about something crazy that I heard on the radio this morning. It's a story that's been around for a bit, but just hit my radar. Welches (yes, the juice company) connected with 2,000 Mommas of school-aged children (5-12 years old) and asked them to complete a survey. The results are interesting and very validating, which is why I'm sharing this with you here.
On average, the survey found that Mommas start their work day at 6:23 am and don't clock out until 8:31 pm. (And not to argue with the experts who conducted this survey, but I'm not sure that knocking off at 8:31 reflects our reality. What about the nights when your little one has a fever or is throwing up? Or the nights that your middle-schooler really needs to talk about the drama happening at school? I hated 7th grade… Doesn't everyone? But I digress…)
That's a 14-hour work day, my friends. This is equal to a whopping 98-hour work week! Which means that on average, Mommas are working 2.5 full-time jobs!
Can I hear an AMEN?!
I don't know about any of you, but hearing this somehow makes me feel better. (But… shouldn't it make me feel worse?)
Here's why it makes me feel better:
Equating the work of mothering to what our society holds so dear, makes me hope that the world might begin to respect this work a little bit more. I've done lots of different kinds of jobs in my life and some of them have definitely not been easy, but mothering? It takes the cake as the hardest job I've ever loved.
The world tells us that what matters most is the almighty paycheck. What contribution are you making to the world, if it can't be seen by a rising dollar amount in your bank account? It's incredibly backwards, this thinking. It's short-term, and short-sighted. The work of mothering is generational, long-term, far-reaching and has the potential to impact the world in ways both great and small, but always in ways that matter.
Why do we need studies that calculate the hours that we put into this job? Because, apparently, that's the only way we can collectively be seen and recognized for the most important work we'll ever do in our lives. Make it about the punch clock, make it about dollars and cents, make it about what the world holds too dearly and too tightly: money.
These same hard-working, butt-busting Mommas surveyed reported on average, having only 1 hour and 7 minutes of time to herself each day. 1 hour and 7 minutes!!! That doesn't seem possible, but then again, we all have to sleep, so we can be ready to face the next day, right? (Sleeping doesn't count as time to yourself, by the way!)
I'd like to speak to my union representative about this!
Oh, wait a minute… We don't HAVE a Mother's Union. But what if we did?
What if we came together, all of us along this path of motherhood, and we organized for those things that would make this work more sustainable?
Here's a list of demands that I think we should consider…
1. A shorter work-week.
This could get resolved in a lots of different ways…
A partner who recognizes that even if both parents are working in and outside of the home, that the lion's share of the parenting tasks are still being done by the Momma, so they step up a little more to help lessen the burden.
A co-worker who "gets it" when you have a sick kid, or a big school field trip coming up that requires more of your attention and time, so they step up and finish the work project — without judgement or condescension.
More affordable, and just more, childcare options so that Mommas can count on finding a little more time for themselves, in order to be more available and present as a Momma when they're "on the clock."
2. More respect.
I don't know about any of you, but just having the respect of my partner, my employer, and other Mommas would go a loooooooooong way in making this work more sustainable! All of us are doing the very best that we can, ALL.THE.DAMN.TIME, and having that work recognized and validated by the people in our day-to-day would mean so much.
Maybe this needs to start with us Mommas… Let's lead by example, shall we?
Recognize a Momma today that you know needs and deserves a little bit more respect for the hard work that she's doing.
Tag her on FB. Text her over lunch. Hold a ZOOM wine happy hour with your BFFs once the "work day" is done. Send her a card.
We never get tired of hearing that we're doing a good job at this mothering gig, but unfortunately, we rarely get much of that positive feedback we so crave and deserve.
3. Longer breaks.
1 hour and 7 minutes in an average 14-hour work day should be illegal.
We need to have more time to nurture those things that make us more than just Mommas. We need to identify those things that have been lost since we became Mommas and bring them back into focus, into our daily lives.
Start small. What are the things that would make your mothering more enjoyable?
A quick walk around the block without your children can give you space, some fresh air, and perspective. A dance party for one in your parked car in the driveway before you head back in to your "job" as a Momma can help you sing away the tension of the day and act as a bridge between your two work worlds. Time away with friends, or cultivating a new (or forgotten) way to express yourself creatively can renew you — body and soul.
Negotiate, with whomever you need to, for the provision of childcare so you can recapture that little bit of yourself that is aching to be recognized, too long dormant due to the required tasks of being somebody's Momma.
The demands of mothering are great: the workload is challenging and ever-changing, the pay sucks, no sick leave or vacation benefits, there's no on-site supervision or regular feedback about your performance — except when you're being judged by others who have no clue…
And yet, we never quit.
We keep coming back for the non-traditional benefits: the awe of shaping another's life, the learning we receive from our little "teachers", the fact that we're better human beings for having taken this job in the first place.
Mommas, I see you.
I see all of the work that you do, day in and day out, to help your babies grow and thrive into adulthood.
Mommas, I salute you.
You are doing incredible, important work.
Find a moment in your busy-ness today to pause and reflect on all that you do. Recognize how hard this work is. Cut yourself (and others!) some slack. Breathe.
The world needs your good work now more than ever before!
My hope is that these demands, and any others you feel are being grossly neglected, are met without resistance. You need these things to help you be even better at your job.
More importantly, you deserve them.
What other "demands" do you think should be considered by your local Mother's Union? I'd love to hear what you'd like to see happen so your job of being a Momma can become more sustainable and enjoyable.