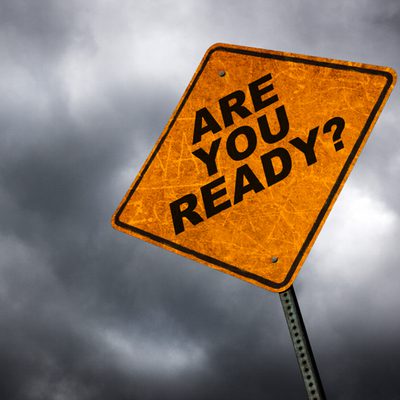 As the couples file out of the classroom at the end of my Childbirth Preparation series, I usually ask them something: "Are you ready?" This might seem like a loaded question, and it is. I'm hoping that I'll hear something along the lines of, "I guess I'm as ready as I'll ever be," or "I'm not sure you can ever feel completely ready." If that's the response I'm getting, then I feel like I've done my job.
That might surprise you. Shouldn't they walk out of the room feeling like they're completely ready to give birth and become parents? I don't think so.
I hope they feel a sense of increased confidence in their ability to meet the challenges of birth head on. I hope they feel more prepared for what might or might not happen. I hope they're broadening their expectations of what a positive birth story looks like. I hope they've come closer together as a couple during their de facto date nights with me. But do I want them to feel completely ready? No, I don't.
I spend a lot of time encouraging my families to lean into their feelings of vulnerability, to explore what it feels like to have the earth shifting below their feet, to be okay with not feeling ready. Because, there's no way any one of us has every truly been ready for the transition to parenthood. I taught classes for two years before I had my first baby, was I completely ready? I may have had more information than most, but no way did I feel completely ready.
I think all of us who work in this field of prenatal and parenting education need to take our jobs seriously and try our hardest to prepare our families for the realities of birth, breastfeeding, and new parenting.
I think we need to remember that it's okay to help them set realistic expectations of themselves, their partners and their babies.
I definitely wish there was more time devoted to adequately address the postpartum period (I'm hatching some new ideas and curriculum to address the ever-widening gap that exists between what expectant parents are willing and able to take in prenatally about that 4th trimester and what they will actually be experiencing in those first days, weeks and months after their baby arrives. Stay tuned). UPDATE: In April of 2017, I began teaching my Becoming Us classes and I think they have succeeded in closing that gap between expectation and reality. Click here to find out more about these classes.
But I'm okay with their honest assessment after my classes end that, no, they are not completely ready for this life change. This doesn't worry me at all. Quite the opposite — it makes me feel as if they were really taking it all in and coming to their own conclusions that they'll probably never feel completely ready.
That's life, yes? Always changing, always evolving, always keeping us a little off-guard.
And just when we think we've discovered the pattern to perfect parenting, our babies will remind us that they are not automatons that prescribe to one and only method. They're forever changing and evolving as well. We all are.
Are you ready for that?
How ready did you feel to become a parent? What could we as professionals in this field have done to help you feel more ready? Do you think it's okay to not feel completely ready for this life transformation?