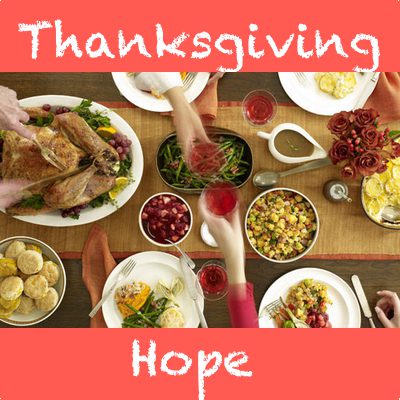 As I've been closing out childbirth preparation classes ahead of Thanksgiving, I can sense the trepidation my families are feeling around traveling for the holidays.
This might be because they're feeling pretty big and not looking forward to "traveling while pregnant" – which is definitely a thing. Or it might be a result of the dynamics that usually occur when their family gather together. But this year, because of the recent election, there seems to be even more concern about how everyone is going to act, or rather, react to one another around the Thanksgiving table.
I'm not suggesting that people deny how they're feeling about the election or the tension that has resulted. And if you have a family that's willing and able to have a healthy discussion about your different viewpoints on all the hot button topics, then go for it! I'm not a fan of conflict, but I LOVE me some resolution! Sit down with those people who've known you since you were born and have that discussion.
But try to listen more than you talk. Try to imagine what the other person might have been considering when they pulled that lever and voted differently from you.  Ask them to get real about why they voted the way they did. 
We've made big, sweeping assumptions (on both sides, I might add) about the reasons why people voted the way they did in this election. This makes me remember something that my childhood friend Kristie's Momma said to us once when we'd had a fight: "To assume only makes an ass out of u and me." I've always remembered that moment – mostly due to my shock that she was saying the "a-word" in the middle of her kitchen to two eight year olds! But, there's some truth to this statement as well.
If you think about it, most sit-coms are completely based on false assumptions! It fuels the entire 21 minutes of a show. Will they ever actually sit down and communicate with one another directly? Or, are they going to continue to dance around one another and the subject at hand until they figure it out in the last two minutes of the show? In sit-com families, it doesn't really matter. These situations always get resolved, and families are knitted back together, intact and supporting one another to face another day. But you might not have a sit-com family.
In fact, your family might be really toxic. You might have a family where there's some perverse delight taken in hurting or belittling one another. Where there's been some deep and intense level of abuse – physical or emotional, or both. If this is your situation, then I hope you've already distanced yourself from this environment and created for yourself a new family, a chosen family, where you've been able to give and receive some level of unconditional love. Because, each one of us deserves to feel that sense of caring and love for who we are, no matter what.
But my hope – because dear reader, I am ever hopeful –  is that you've actually experienced what a positive family looks and feels like in your life. Where all of the members who make up that circle have your back. Where they respect you and love you. Where they are kind and caring and, ultimately, only want what's best for you.
A healthy family acknowledges that there might be differences, really big differences, in all those areas that can trigger us to lash out, or become defensive, or to try and "win" in an argument. But despite all of these differences, a healthy family realizes that there's a stronger and more fundamental bond that allows you to gather this holiday season and be with one another in ways that are real, authentic, healing. And in this way, create connection in a world that feels so disconnected right now.
Maybe your family has decided that to discuss politics, religion, whatever – would threaten to undermine that bond. Some may disagree with me for saying this, but I see this as yet another way to try and love one another despite differences – even the really big ones.
Consider for a moment… You may have children of your own, and if they're still young you might be thinking to yourself, "My children will grow up to share the same values I have about everything – because I'm teaching them all that I know and believe to be true." But, in reality, they're going to grow up and become themselves.
Your teachings, your influence will be in there somewhere for sure – but they may end up saying, wearing, protesting, believing, and voting for things that are very, very different from you. Looking at your own children now or even your gorgeous baby sleeping in your arms – can you believe that you would love them any less because of this?
The world is a hard, cold place at times and having a family that you can continue to come home to matters. We all need to try and cultivate kindness, caring, love and understanding – and then manifest this into the world. 
And it needs to start at home. With our families. This is the only way I know that we can begin to bridge the divide that's threatening to unravel us all.
May your travels be safe. May you find a multitude of things in your life to be grateful for. And may your family table this Thanksgiving be filled with good food, hospitality, warmth, connection, and love.
This is my Thanksgiving Hope.
PS – This is a love letter of sorts to my own family who I'll be missing again this year for my most favorite holiday and treasured memory of growing up as a Buckner.
I love you.