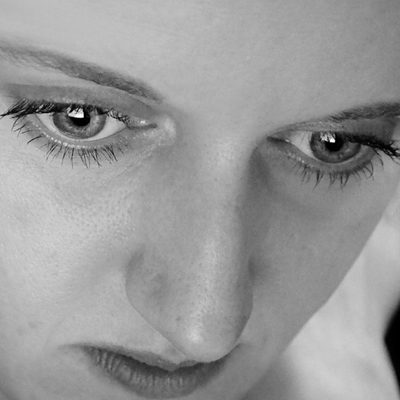 There's an article that I just read from the BBC about a project called "One Day Young" from London photographer, Jenny Lewis, who for the past seven years has been capturing a stolen moment in time in the lives of new mother/baby pairs within 24 hours of birth. I encourage you to look at all of the photos she's taken for this project. Then come back and read the article and see if you agree with what I'm about to say.
All of her photos are mesmerizing to me and I recognize my own self as new Momma in the disheveled hair, the still pregnant looking bellies, the exhaustion visible in every pore. I love that the photos are not retouched and appreciate that the photographer has really attempted to show a more realistic image of new motherhood.
But to be sure, I see myself more in the faces of the women who have a slight smile on their lips, maybe a bit of a gleam in their eyes – those women who seem to be thinking, "I can't believe I just did that! I've got a secret… I totally kick ass, and this baby is my proof!" At least that's how I felt after the birth of my first baby and I'm pretty sure a picture taken at that time would have reflected my inner rock star.
(Photo by Jenny Lewis)
But the images that linger in my memory, are ones like this: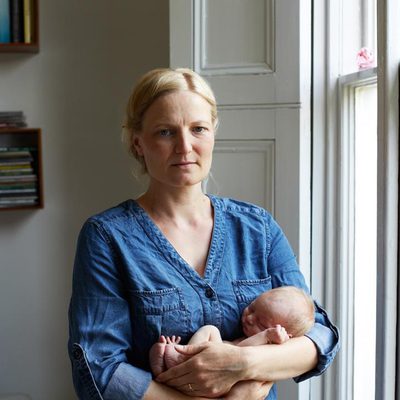 (Photo by Jenny Lewis)
"I am not entirely sure who is to blame for the rose-tinted vision of motherhood. It doesn't matter how many times someone tells you how tough it is to have a baby. Before you have one, you never quite get it. I often think about vulnerable mothers in tough circumstances and how they manage."
Gitta Gschwendtner, mother of Til
There are photos in this collection where there are no Mona Lisa smiles. These are the ones that show a different set of emotions: "I have no idea what I'm supposed to think of you, let alone how to take care of you." Or, "My birth was traumatic and I feel ripped off!"
You can sense the fear, anxiety or anger behind those eyes that are averted or avoiding direct eye contact with their baby. And while there are only a few pictures from the entire collection that have connected narratives in the original article from the BBC, they seem to complete one another perfectly. The image and words just fit for that baby's first day of life, that woman's first day of mothering.
But this leads me to ask a question… Oftentimes, new Mommas suffer from PMADs (Postpartum Mood and Anxiety Disorders) in complete silence, their outside demeanor belying what hell they're going through on the inside. How does this happen? If during those first 24 hours a photographer can capture these images, what are we missing? Because I'm sure you've seen the photos of women who've been struggling with a PMAD months after their baby's birth and in all the pictures from that time, you'd have a hard time knowing it: they look joyful, happy, as though everything is wonderful – while inside they're falling apart.
But in these One Day Young photos, the difference between the women who are suffering and unsure, versus those who look eager and excited to take on their new roles is obvious.
It's purely speculation on my part, because I haven't interviewed any of these women and have no idea about their medical history or how their births turned out, but I would be willing to guess that unmet expectations definitely played a part and contributed to their looks of disillusionment and overwhelm.
This is not their fault. Like Gitta says above, there's a rose-tinted vision of motherhood that is pervasive in our culture and this doesn't do anybody any favors.
Parenting is hard. It's the hardest thing that I've ever done in my life on every possible level. And we need to be sharing this message with more people and more often.
There might be naysayers who cry out, "You don't want to scare them!" But realistic expectations are not scare tactics. Different aspects of parenting will be more or less challenging for each individual (as an example, for me,  it was the entire year each of my children turned three…) Knowing that it's not all rainbows and unicorns allows women to understand what they're getting themselves and their partners into.
Even though I'm just supposed to be talking about getting a baby born in my classes, I throw in some info now and again about the realities of life with a newborn, so that they've at least heard it from one person before the baby arrives.
This is going to be hard. There will be days that you hate it. There will also be days that you can't believe how much you love it. You'll be stretched to your absolute limit – multiple times. You'll have a mirror held up before your face every.single.damn.day and even though you try your hardest to be the best version of yourself, oftentimes you'll fail and be a version of yourself that you really don't like that much. You'll compare yourself to others, but why? You, your partner and your baby are unique and the only "right" way to parent your baby is the way that's working for your family – today. Because, it's not going to work a month from now. You will never "arrive" as a parent. Because it never ends. There will always be a new challenge to learn from.
The photos of these women in their first 24 hours with their babies are raw, they're real, and these women have just gone through the most intense transformative experience of their lives and they're not able to mask their true emotions and vulnerabilities.
And I think we need more of that. All of us. We need to put down our armor and share openly, first with ourselves, and then with those people we love, about what's really going on inside. But then, that circle needs to expand.
We need to be willing to share with other new parents our highs and our lows of parenting. I've said it before, but it bears repeating: Find your tribe now. Find that tribe of people who will celebrate your parenting successes, and listen to your parenting fails – followed up by sharing a few of their own.
Knowing just how challenging this parenting job can be and having realistic expectations about what's to come, is empowering to new families. When they feel prepared and armed with realistic expectations about their roles, unfettered by rose-tinted visions, they'll end up feeling less isolated, alone and incapable and more able to partner and parent with confidence: all the things we should want for our new families.
How can you bring more realistic expectations into the work you do with new families? If you are a parent already, how could you help expectant parents have more realistic expectations about this time in their life? If you are a new parent, how could you reach out to other parents to find your tribe?