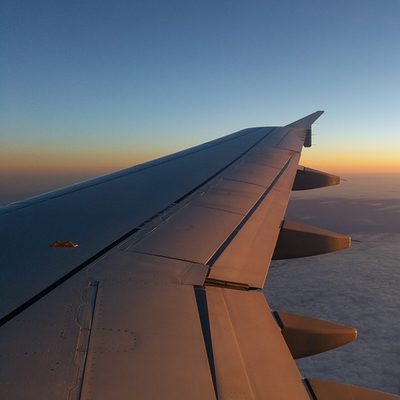 It's 5:03 am Chicago O'Hare time and I'm trying to find some free Wi-Fi that actually works. I passed a Starbucks on my way to the gate and I can imagine my chai tea latte (extra hot!) in about an hour, when the place finally opens.
I'm able to sit and write uninterrupted for the next couple of hours and I'm amazed at this list of things I don't have to do:
Listen to Thing #1 complain pretty much non-stop about how bad the Wi-Fi in this place is "I can't even stream my music, Mom!"

Argue with Thing #2 that even though he thinks he "didn't sleep on the plane at all!" he actually did – I saw him, and I know he's tired, I'm tired, we're all tired…

Navigate the obstacle course that is Thing #3 's collection of markers, colored pencils and fashion design books strewn all over the floor

Chase after Thing #4 as he swings on the bars attached to window ledges and asks over and over and over again, "When's it our turn to get on the plane?"
Traveling without children isn't something that I get to do very often. And so it's still a bit of a novelty to me. When you have four kids, traveling is usually quite the production!
You know your family is "big" when you take up two full rows on the plane. The first thing we always do is decide who's sitting next to whom. This is not as easy as it sounds.
My hubby and I usually do some form of Rochambeau to determine who's sitting with the littles and who's sitting with the teens. It's obvious who loses this game as one of us ends up having to come up with as many adjectives, adverbs, nouns and verbs as we can, to then listen to the resulting Mad Libs story at a deafening volume you can hear over the roar of the airplane's engines.
We bring electronics people, I'm not going to lie. Apple products are some of the world's greatest inventions when it comes to traveling! We download movies onto the iPad – but we have to figure out what Things 1 & 2 will both want to watch vs Things 3 & 4. It's hard to find movies that all of our kids ages 16, 14, 10 & 7 actually like and are willing to watch again for the umpteenth time.
Plus – there's only so many movies that can fit on a portable electronic device, so we can't just rely on movies as our main tactical maneuver for traveling bliss. Oh, no. I have to make sure that each one of them has a book, but it has to be the right book: long enough to last most of the trip – without weighing 15 pounds! But I can't forget all the other books: coloring, work, sticker… whatever will distract and entertain.
We try to take up two rows on the same side of the plane instead of side by side. We do this to avoid the looks of irritation from strangers who continue to a) get a kick in the pants no matter how many times we remind our kids to "Stop kicking the seat in front of you!" and b) get whacked in the head by a steady stream of our bags being sent across the aisle. 
And then there are the snacks. Holy crap! You'd think we were flying one-way to a deserted island somewhere with no hope for a food drop, based on the amount of food we bring along! Food is one of the best ways to keep kids on a plane happy though, so it's got to be a good! I try to bring a mix of sweet and savory, with plenty of protein and nutritious stuff thrown together with a few "plane only" foods. These will inevitably get eaten on the first leg of the trip first and then the whining begins, "Why does he still have Oreos?" (Because your Dad has learned the art of delayed gratification, my friend.)
There must be gum available for takeoff and landing – not because it actually helps that much with ear pressure, but if I put a big enough wad in my mouth, I can distract every kid on the plane as I blow bubble after bubble while they laugh as it pops on my nose and cheeks.
Almost always, the flight attendants remark as we're getting off the plane how well behaved our four kids are. And they've been saying this since the days when they were all under the age of ten. I'm not trying to be smug, here. The trick to successful travel with children is to remember: YOU'RE TRAVELING WITH CHILDREN!
You might get to read that novel from your book club or the latest O Magazine when you get to your final destination, but no way are you doing any of that on the plane! When I fly and I see kids really acting up it's usually because THEY'RE CHILDREN, and their parents have forgotten this.
Traveling for hours strapped into an uncomfortable seat, with no legroom, a tiny little window that looks out into nothing, and where the only place to wander off to happens to be the world's smallest toilet is hard enough on us adults! But when you have children with you it means you have to rally and be ready to parent every second of the flight – or at least until they fall asleep.
Sleeping children on the plane is always worth striving for! If they're still nursing, it's a little bit easier because they might end up sleeping the entire time – as long as there's a nipple in their mouth! (Which may be the best argument for extended breastfeeding ever!) But if they weaned several years ago, you have to be prepared to help them make it through the flight and the best way to do that is to be as present as possible.
It's not easy. In fact, it's incredibly exhausting! But it usually prevents most of the meltdowns that are likely to occur if you forget that you're traveling with children!
I'm aware of how easy this is for me to write about today, seeing as I have none of my brood with me. But this is really just a reminder for me to pack well – as we will be traveling with all four of them, on a very, very long flight in just a couple of weeks.
And I need to be prepared.
How do you entertain your kiddos while traveling? Any pearls of wisdom to share about how to keep the littles distracted and happy for those of us who will be facing a big trip this Summer? (Hint – I'm talking about me here, and I could really use some new ideas before mid-June. Help a Momma out!) Bonus points if the idea doesn't take up any room in the carry on bags. May you all have safe and relatively pain-free travels. Don't forget – you're parents, now.