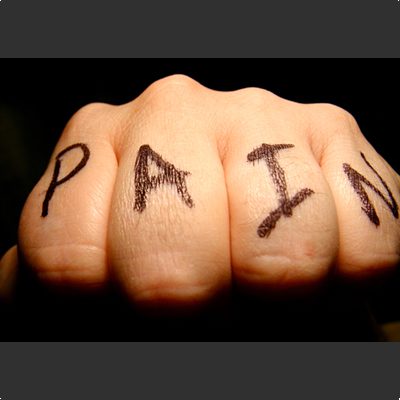 I taught a class recently that was a little different. It only meets once and focuses on the brain-body connection, the practice of comfort measures, and how to stay in a coping mindset throughout birth. There's no discussion about the stages of labor or when to go to the hospital. This class is like "extra" practice for the uninitiated, or in the case of one of the Mommas in this particular class, a "refresher."
Karen* introduced herself as a "veteran." She went on to say that she'd chosen to have an unmedicated birth with her first, but it had been "really painful!" She needed more tools to help her cope with labor this time around.
She added quickly, "Don't worry, ladies. You'll forget all about the pain."
Although I appreciated her attempts to not frighten the group of newbies assembled, I'm not sure if I completely agree with her statement. Some women don't forget the pain of their labors – at least not entirely. And I'm not sure that encouraging women that they'll forget their pain is necessarily helpful as a preparation technique.
However, her statement did end up being the perfect segue to talking about the "P-word."
In our culture, pain has become a nasty, four-letter word that we want to avoid at all costs. There's a thriving multi-billion dollar industry counting on the fact that people want only to take a pill to make their pain, physical or emotional, go away.
When we talk about labor, women don't want to even think about the pain, let alone focus on it. I've found that most women fall into one of three approaches when it comes to labor pain and how to cope with it:
1) "The At-Home, DIY Epidural Kit Approach," which of course, doesn't exist. These are women who believe that there is no way they'll ever be able to get through labor without drugs.
2) "The Grin and Bear It Approach," which translates to women saying no to drugs, even if it becomes truly unbearable.
3) "The Just Breathe the Right Way Approach" which some women believe will not only allow you to experience birth without the use of pain medications, but also without any pain at all!
None of these approaches sound right to me. All of them have unrealistic expectations built in. And you know, I'm not a fan of unrealistic expectations. So, I've come up with my own approach to labor pain and how to cope with it. I'm calling it, "The Why Don't You Wait and See Approach."
There is a difference between pain and suffering. Pain is a physical sensation that occurs in the body, most often associated with illness or injury. (In the case of labor, it's important to note, there is no illness or injury – barring any complications, you are healthy, and labor and birth are normal, biological events.) Suffering represents the emotional reaction to that pain.
In, "The At-Home, DIY Epidural Kit Approach," too many women decide long before birth ever begins, that they will never be able to handle their contractions without pain medication. Why? Because they've bought into Hollywood Birth. Think of the last birth you saw on TV or in a movie. What about that scene would ever make you feel like you could give birth without drugs? Actually, what about that scene would ever make you want to get pregnant?
When women only see this dramatic and intensified Hollywood version of birth, it's hard to imagine they could ever find labor to be tolerable, let alone something to look forward to. In this mindset, women often start their labors in fear – which actually increases their sensations of pain with each and every contraction. It's a self-fulfilling prophecy. Making assumptions about your pain tolerance and ability to cope with contractions before labor ever begins is the surest way to undermine your real ability to remain in a coping mindset from start to finish.
But what about "The Grin and Bear It Approach?" Women adopting this approach have equated that they can only have an empowered birth experience if they don't have any drugs – no matter what. No matter that their labor is extremely long and their baby is in a unfavorable position. No matter that there was a death in the family the same week they're giving birth. No matter that this labor is kicking their behind and they stopped coping with contractions hours ago. They're no longer just feeling pain with their contractions, they've crossed the line into suffering. These women believe that they'll feel accomplishment after their births – and are completely shocked when instead they feel overwhelmed and like they were barely hanging on.
Many of the proponents of natural, unmedicated birth talk about enjoying contractions, finding bliss or even having orgasms while giving birth. In "The Just Breathe the Right Way Approach," women might think they're doing something wrong when they discover that their birth actually hurts. Maybe it hurts a lot. Talk about disappointment! They thought they'd be blissed out, having orgasms left and right, but that's not what they're experiencing at all. 
(Don't get me wrong! I've actually met two women who did, in fact, have the most massive orgasm of their lives while giving birth! So, it can happen. But when I asked them how they did it, both of them essentially said, "I don't know. It just sorta happened." Have you ever gone in search of an orgasm while having sex? It goes into hiding – like witness protection program hiding! This might be one reason why orgasms during birth are not super common.)
We seem hell-bent on trying to avoid pain in labor and I'm not exactly sure why. 
To me, pain and pleasure are two sides of the same coin. We can't really understand pleasure, if we don't have something to compare it to. And while I would never classify my contractions as pleasurable, I definitely would describe the breaks in between as pure bliss. I would work hard through each contraction, pushing myself to my own personal limits, and then blessedly, there would be sweet relief on the other side of every single one of them.
It's true that each contraction grew longer, stronger and closer together. And the breaks in between definitely got shorter. But if I was able to maintain that coping mindset, I knew this meant I was getting closer to holding my baby in my arms.
"The Why Don't You Wait and See Approach," allows women to stop preemptively deciding what they'll be feeling when they go into labor. No one knows what their pain tolerance is for labor, because the pain you feel with contractions is so very different than any other kind of pain you've experienced before.
If you're able to stay in a coping mindset, it's completely possible that you can get through your entire labor experience without any need for pain medications.
Most likely, you'll experience at least some level of discomfort in the middle of a contraction. You might describe your contractions as really painful, but tolerable. You might feel like your contractions are too intense for you to continue to handle them on your own. Who knows? You might win the labor lottery and have a big ol' orgasm!
The point is – you have no idea what to expect. So, stop trying to predict how your labor will unfold and how you'll respond before you're ever in labor. Be open. Remain flexible. Wait and see. Then, make your best decision about how to cope with your contractions as they are actually happening, so you can look back on this experience and feel strong, empowered and confident that you participated fully in your birth.
What was your personal approach to your birth experience? Was it spot on from before birth, or did you have to switch gears in the middle of your labor? How does "The Why Don't You Wait and See Approach" resonate with you? Please leave me a comment. I love to hear from you!
*Not her real name.