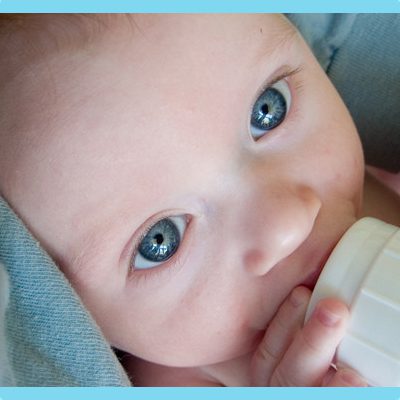 "It's really hard sometimes. I'm frantically trying to mix the bottle and he's really hungry and upset and I could comfort him so much more quickly if I could just breastfeed him. I wish I knew why they didn't do what they were supposed to. Why didn't you work?!" She looked down at her chest and aimed this last question directly at her breasts as she let out a heavy sigh. When she looked up I saw her forced smile, but I could also see the pain in her eyes.
I reassured her, "Your baby is gorgeous and thriving, so you must be giving him exactly what he needs!" And then the conversation shifted to how bottle-feeding was going. I was happy to hear that they'd found a formula that the baby was tolerating well and that Dad had jumped into help with feeding his newborn son – a happy and alert four-month old, curious about the world around him.
The assumption is, that if a woman has the equipment and a baby has the breathe-suck-swallow-reflex, all you need to do is put the two together, and – Voilá! Breastfeeding happens, no problem! And when it does work out that way, it's fantastic! But it doesn't always work out that way. In fact, I think a lot of women would place breastfeeding challenges at the top of their list of unexpected outcomes – but only after they've had their baby.
If I taught breastfeeding – which I don't, I'm not trained to do so – my classes would probably focus on the challenges that a woman might face. (Remember me? I don't call myself "The REP" for nothing!) I recognize the valid concern that if all we talk about are the challenges of breastfeeding, that this might discourage women from attempting breastfeeding in the first place. I get that. But it's all in the delivery of the information!
There's a balance to strike between "Here are some challenges that you might face when you're breastfeeding" and "Wow! Breastfeeding is going to be waaaaaay harder than you think!" I continue to hear from so many women that they wish they'd known more in those early days and weeks about how challenging breastfeeding might actually be for them.
Now, I'm lucky enough to have friends who are excellent breastfeeding educators and lactation specialists and I know first-hand that they do talk about breastfeeding challenges – both in the classroom and one-on-one. Maybe this information just isn't able to fully sink into the minds of these pregnant women who are still fixated on how they're going to get the baby out.
In any case, women share with me how their feelings of being unprepared lead them to feeling "broken" and then guilty at not being able to do what is best for their baby ("Breast is Best!" after all. Yes, they know… they hear it all the time.) It literally breaks my heart.
In Portland, Oregon if breastfeeding goes well for you, than this can be a wonderful city to live in. We've got Baby Friendly hospitals, amazing IBCLC trained lactation specialists, great initiation rates, some impressive longevity rates, and many people feel more comfortable breastfeeding in public here than in other parts of the country because they see it all around them and know that what they're doing is largely supported.
But, if for any reason, breastfeeding does not go well for you, than living in Portland, Oregon can be really tough. There's a lot of judgement about bottle-feeding in this town. Maybe this is also true where you live?
I'm not trying to promote bottle-feeding over breastfeeding. I breastfed all four of my kiddos until they were close to two years old. I promote breastfeeding all over the place, personally as well as professionally. I am a breastfeeding advocate.
AND I'm also a new parent advocate.
I want to support these new parents – even more so if they've had to make a challenging decision while feeling vulnerable and still trying to find their way in their new roles as parents.
I want to provide positive attention to those women who're truly unable to breastfeed or who've made the decision to bottle-feed their babies for a number of different and valid reasons. Oftentimes, this can be the most difficult decision they've had to make as a new Momma. Most of the women that I know personally who've had to switch to any amount of supplemental feeding for their babies have only done so after weeks and months of trying to get breastfeeding to work. The amount of effort they have exerted is nothing short of Herculean.
So, how can we better support Mommas who've had to make a decision that goes against the way want to feed their baby, when they're confronted with the reality that breastfeeding is no longer an option?
I'd just like to acknowledge that for some women, "Happy World Breastfeeding Week!" might not be that happy. Those of us who've been able to breastfeed can be grateful that breastfeeding was not that challenging for us, or if we did have challenges we were able to move past them and continue to breastfeed. But maybe can we also try to be more supportive, truly supportive, of the Mommas who've had to make other, different, hard choices around the issue of breastfeeding?
Instead of judgement, let's offer each other a soft place to land in this challenging and trying world that is new parenting. Be gentle with one another. Be gentle with ourselves. We're all doing the very best we can for our babies, and they're thriving because of our tender love and care. This is hard work, and we need all the support we can get.
What was your breastfeeding relationship like with your baby(ies)? Easy-peasy, challenging-but-doable, or it-just-didn't-happen? How do you feel about that? Were you able to find support? Where? Please share your comments with me. I appreciate them and YOU so much!