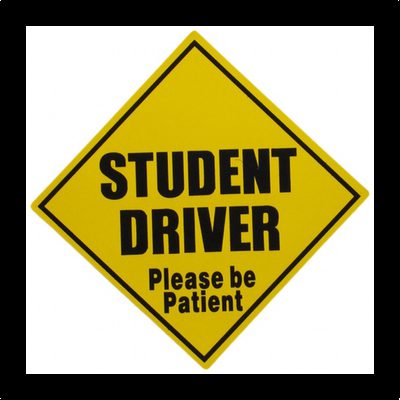 I just got back from taking my "baby" to get her driver's permit. She passed! And now I have to decide what emotion I'm feeling after paying the $32.50 that was required for her to smile for a photo that allows her to legally get behind the wheel of an automobile. Is it pride? Fear? Sadness?
Wistfulness might be the closest to what I'm feeling, but not in a melancholy or regretful way — wistful, as in reflective.
I have raised my "baby" to grow up to be an independent, young woman. And to be honest, I was shocked that she'd waited this long to take the test — an accurate picture of how different it is growing up in Portland, Oregon rather than Indianapolis, Indiana.
Portland, as you may have heard in any number of magazines, is one of the easiest places in the world to get around without ever needing to know how to drive. We have several ways of getting from point A to point B. Our Tri-Met system includes busses with routes all over the city and beyond, The Streetcar, The Max, and more bike lanes than almost anywhere else in the country.
Indianapolis, on the other hand, was a place where to take a bus from where I lived, I'd have to drive to find a bus stop several miles away, first. Things might be different today, but the day I turned 16, I made my parents take me directly to the DMV so I could pick up my license and drive us all home — and I never looked back.
It just seems that now that it's my girl's turn to be in the driver's seat, that the time has passed too quickly. Now, I promise all the newish parents reading this that I have not forgotten how rough it was at first. When I was doing it myself, I felt like the 4th Trimester was some of the hardest work I've ever done in my life! For the record, I still feel this way! But despite these feelings, I did it again three more times! What is wrong with me?!
Well, it gets better from there (I promise!) And while I'll admit that there are moments in that newborn period that are so full of wonder and awe it's almost magical, I think those same babies become so much more interesting as they get older.
Half of my children are teenagers right now, and I'm going to share something with those of you still stuck in diaper and breastfeeding mode: Do not buy into the myth that teenagers are terrible people that you will hate having in your life almost as much as they will hate having you for their parents.
I think this narrow expectation is at the root of a lot of the issues that can crop up between parents and their teens, but it doesn't have to be that way. Broaden your expectations about this time, and try to remember what it was like to have your hormones in control of your body, your mind and your soul  — and you'll do okay. I'm not saying it's a cakewalk, I'm just not sure that reality always fits the myth. So true for most of the stories you hear about parenting — at any age.
One thing that I've been told (by my own mother, nonetheless) that has proven to be absolutely true about parenting is this: "The days go by slowly, but the years go by too fast."
I am reminded of this today, as my girl takes that next necessary, anticipated and completely supported step toward her full independence from me. I remember our first Christmas together as a new little family and marvel at all that has transpired since. This act of parenting never ends, and in ways even though it's so much easier now, in others it's even harder.
Not the parenting, per se, but the act of letting go.
It's been happening since the moment she left my body, even before the umbilical cord was cut, she was already leaving me — this one being suddenly made two — and I am preparing myself for her full leave-taking which will be happening soon. The next two and half years will be chock full of days that go by at a snail's pace, but I will blink and the years will have flown away.
So, in this season of gifts, recognize the gifts of your family as they are, in real-time, in all its messiness. Try your hardest to not wish it to move forward too soon. Time is already taking care of that for you.
Look at your baby in your arms once again. Memorize the contours of her sleeping face, feel the weight of her warm and trusting body nestled against you. Give thanks to the ones that made you a parent. And begin the wistful process of letting them go.
The secret beauty of it all is that they never really leave you — they are forever imprinted upon your heart.
Are you still in that phase of, "When will this challenge ever end?" Is it possible to pause and just be in these moments with your little one(s) — even if this moment is not pretty and moving in slow motion — and savor them?