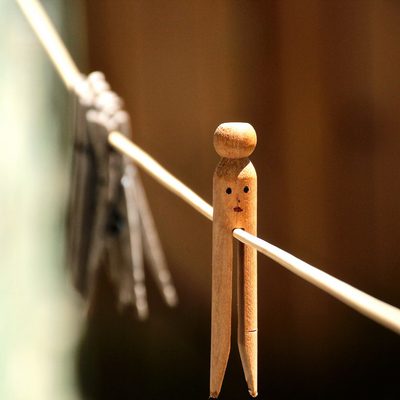 Being a mom is lonely…why is making mom friends so hard? I swear it's worse then dating. Pretty sure I'm just going to throw in the towel on having a social life until I'm old and retired and can play wheelchair races with other loner stinkies down the nursing home hallways. Raise your hand if wine is your best mom friend these days.
This was the post I read the other day on an online Facebook page that I lurk on. By "lurking," I mean that I'm a member, but rarely do I post anything. The group is supposed to exist as a means of support for today's super-connected new Mommas. But when I read some of the responses to posts members have written, they feel anything but supportive.
I'm not bashing the Admins for the FB page. I believe they work hard to police any comments that are out of line with the quote prominently displayed on their banner: "Whatever you do, do with kindness. Whatever you say, say with kindness. Wherever you go, radiate kindness." (Jonathan Lockwood Huie) But when you have 15K+ members, it's hard to keep up.
I believe that being a new Momma today is much, much harder than it was when I had my first baby 17 1/2 years ago. And the number one reason, in my opinion, is: Social Media.
Now, before you think that I'm going to tear into how "social media is the devil" and that we would all be "better off without our faces glued to a screen" – I'm not. I'm not much of a ranter, in general, but if I went on a rant about social media, it would make me a hypocrite.
I share rich and robust connections with people all over the globe… that I only know online. There are a few whom I feel incredibly close to – even though we've never met, or even talked on the phone! So, no… social media is not some sort of demon that we all need to try and exorcise from our lives.
Motherhood on its own is one of the toughest gigs around. But add a little social media to mothering and you've just made it that much harder. Here are a few reasons why I think this is so:
It's too easy to sit at your dining room table and "connect" with other people online instead of getting out of the house as a new Momma to interact with people face-to-face.

(Important to note that this can lead to all sorts of issues: increased feelings of isolation, increased risk of PMADs, a lack of conversational skills with someone other than your non-verbal infant, or your partner)

A lack of conversational skills can make any attempts to connect with people in the real world seem super weird and awkward.

("Hi – do you want to be my new Momma friend?")

Interaction with others online only, means miscommunication is bound to happen!

("Did she just say that to me? I can't believe she just said that to me!")

Engaging in interactions with others that are not face-to-face can be socially dangerous.

(Not being able to read body language and facial expressions, means you might not understand the meaning behind the comment: they meant to convey humor or sarcasm, you interpreted it as mean and hurtful.)

It's also too easy to feel defensive about a parenting choice you've made and then go into attack mode if you feel your decision has been challenged by someone else – especially if they're just a name and a profile picture on a screen.

(Making parenting decisions almost always leaves you feeling a little bit uncertain and defensive. And we often will "say" things online that we would never say to a person standing in front of us.)

People don't usually share their parenting fails – or any other fails, really – online.

(The virtual world is where most of us present only our very best selves, leaving out the not-so-glamorous details of our everyday life. This can lead others who might be struggling to believe that they're not good enough, strong enough, smart enough, pretty enough… to be able to do this Momma thing "right.")

While we all know that perfection is just an ideal, and not something that exists in reality, it's hard to be okay with your imperfections when others are not willing to reveal any of their own.

(This is what I like to call "The Curse of the Pinterest Parent.")

Despite all of this, we continue to persist in trying to make these online only "connections" with others – but we also continue to be surprised by the result.

(Relationships that don't feel very deep or authentic; relationships that end up being not very satisfying and leave us wanting something more…)

It's no wonder then that the current generation is one with the most connected group of people in history reporting the highest levels of loneliness and isolation.
Wow. How'd we get here? But more importantly, how can we get out of here?
The feelings of vulnerability that get stirred up during pregnancy are intense and very unsettling. Everything seems to be changing: our bodies, our relationships, our feelings about the world, our identities as individuals and as a couple – and there doesn't seem to be anyplace where we can find sure footing.
It's one thing to make decisions for ourselves, but now we're making decisions for our baby – and we really don't want to screw this up! We've either had: A) the greatest mother in the world, which is fantastic – but an incredibly tough act to follow! or B) the crappiest mother in the world, which is awful – and we're desperate to not repeat her sins. Either way, there's an awful lot of pressure to be the best parent EVER!
I've talked often about the need to find your parenting tribe . It's not necessarily easy, but it is easily one of the most important tasks of pregnancy and parenting preparation. And even if you've already had your baby, but still don't have your tribe, then I encourage you to get out there and find them – in person!
This might sound challenging – but it's completely worth it, I promise. Go to where other new parents hang out. There are usually New Parent groups in most communities – check them out! Usually the first couple of visits are either free, or super cheap to attend, so there's no real investment, other than your time.
These groups are usually run by a facilitator who can help the group learn one another's names and provide some ice breakers or discussion topics for people to weigh in on. It might take a month or more of weekly hanging out for you to make a connection, and it may only be with one or two others, but it's a start. And even if it does feel eerily similar to dating (Noooooooooooo!), hang in there. Going out for coffee after or meeting up early to take a walk before the group starts can give you a little bit of time to get to know one another better and see if you're a good "fit."
Sign up for some sort of "baby and me" class – music, messy art, reading at the library – or just go hang out at the park. Parks exist for one reason only: so parents can gather, commiserate and let their kiddos run wild and so as to not destroy the house! (I realize there are lots of other reasons… This is just the one that saved my sanity when my kiddos were small.)
But here's the part that might be hard for some of the Mommas in this generation to hear… While you're hanging out, trying to meet other new Mommas – Put the damn phone DOWN! Interact with your baby and the world that surrounds you. Be present. Look up and smile at another new Momma – she's probably feeling exactly the same way you are. Strike up a conversation – about how cute her baby is, or where she got the killer stroller, or how crappy the weather's been lately…
But after the small talk, get real.
Real connection does not occur when we hide who we really are. Real connection with another human being only happens if we allow ourselves to be vulnerable. You don't have to dump on your new potential BFF, but it's also okay to reveal a little bit about yourself that shows her you're human, you're not perfect. This can disarm her and her natural tendency toward defensiveness as a new Momma.
What's the worst that could happen? You might get shot down… And if you do? That's okay, you're just not a good fit. But what if she responds with,"I feel the same way!" Well, then my friends you've got the start of something beautiful – a new friendship that is based upon shared circumstances, similar parenting styles, and cute babies that you really hope will like one another as they grow up. The potential to make life-long friends is there for the taking as a new parent – it's just going to require a little bit of effort.
But please, please don't give up…
The Momma who wrote that FB post did something that others might have thought a little crazy – but I thought it was beautiful and brave. She opened herself up and expressed her vulnerability about not having many new Momma friends – and she did it online, which is very taboo. And do you know what happened? As of this writing, she's received 73 really positive and encouraging comments from other Mommas who are looking to make real, face-to-face connections. She started an online thread for all of these other women to share their own feelings of loneliness as new Mommas and it looks as if there will be meet-ups happening all over the city!
My hope is that these women make connections with one another and begin building their LIVE tribe of new parent friends – those who will be honest with one another about the challenges of parenting, and willing to share their epic parenting fails. When we realize we're not alone on this new parenting journey, it can be so helpful! Because trying to do this parenting thing without your tribe is hard and one can be the loneliest number.
How are you feeling in this age of "connection?" Hooked-up and well engaged? Or lonely and in need of a friend? Where did you/will you find your tribe?
For an added bonus check out this video from Three Dog Night from 1969… It's so good in all the bad ways.