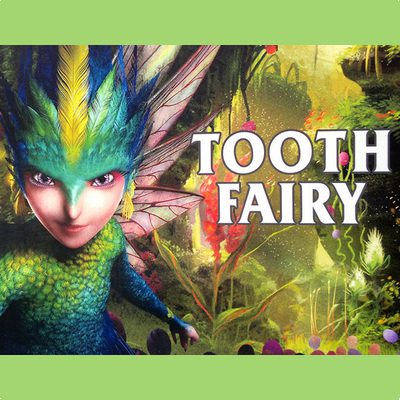 "Okay, Mommy – I'm going to ask you a question, because I know that parents don't lie."
Thing Four said this to me yesterday afternoon while standing in our kitchen, home early from school with his first-of-the-season cold. I tried to distract him by offering him a snack. But, he would not be deterred.
"I'm not hungry! I need you to answer this question, because I know you won't lie to me."
I knew what was coming… How? He's my fourth kid, he lost his tooth in the middle of math class yesterday, and he was jumping up and down about the dollar that he found under his pillow before he headed off to school in the morning. I got myself ready.
"Okay. What's your question?"
"Are you the Tooth Fairy?"
I tried to stall. "Why are you asking me that?
"Because a big kid at school today said that there's no such thing as a Tooth Fairy and that it's just the parents. I want to know if he's right or not."
The moment of truth. Ugh. I've walked down this path before, three times already. But with Things One, Two & Three they hadn't posed the "Is (fill in the blank) real? Or is it just you and Daddy?" question until they were ten years old. Ten! In this day and age, I think ten might be pushing it when it comes to still believing in the magic of childhood and I was so happy that they did! Because, honestly, I still want to believe. But when I answered their questions, it was only to confirm what they already knew. Each of them expressed sadness – they were hoping against hope that magic was still real – but none of them were at all surprised.
As my tender-hearted, sweet and sensitive seven-year old boy stood before me with complete trust that I was going to confirm what he knew without question – that the Tooth Fairy was in fact very real – my heart was aching for him. The words, "Too soon! Too soon!" kept echoing in my head. He noticed my pause and asked again, "Are you the Tooth Fairy?"
"Are you really wanting the answer to that question right now?" This has been my go-to response for the older three on so many different topics over the years. I feel like it gives my kids an out if they aren't really ready to hear the answer. And sometimes, my question stops them from going any further. My little guy's smile started to falter and his bottom lip quivered a bit, but he still said, "Yes."
When I told him that it was his Daddy who did the work of the Tooth Fairy his face crumpled and he started to cry. In that moment, I wanted nothing more than to find the older kid who'd given him a hard time at school earlier in the day, teasing him about still believing in the Tooth Fairy – and wring his little neck.
Instantly, I was transported back to the day I was five years old – FIVE! – and my older brothers, ages eleven and thirteen at the time sat me down and told me that none of it was real. They laid it all out – and I bawled my eyes out.
I decided to do my best to soften this moment for my little guy and asked if I could hold him in my lap and try to explain.
"I don't ever want you to feel foolish or that you've been tricked. I don't want you to think that we've lied to you."
"But you DID lie to me! When I asked you in the past if if the Tooth Fairy was real, you always said yes!"
"Ah, but the Tooth Fairy IS real – your Daddy's real, isn't he?" (A loophole, I know – but I was needing to think fast…) "You could think of him as being the hands and feet of the Tooth Fairy. And the story of the Tooth Fairy has been told forever! Longer than even when I was a little kid!" (That always makes them understand the passage of time. My kids think I'm ancient!) "I'd like to think that maybe the story started because somebody's kid lost their tooth, it freaked them out, and the parents told them about the Tooth Fairy coming to take the tooth and leaving them a gift in exchange to make it all less scary. To make it more exciting and magical! It was never done to be mean-spirited or hurtful. Are you angry with me?"
"I'm angry that I ever believed in the first place," he mumbled in between sobs.
"But didn't believing in the magic of the Tooth Fairy make it special for you?"
"Yeah –  but it wasn't real."
"But the real magic is that your Daddy and me and all of your siblings -" I began, but he cut me off.
"Wait! Elisa, Ale and Lulu know there isn't a Tooth Fairy?" a new round of tears coming down his sweet, little cheeks. "I'm the only one in this family who didn't know?!"
And I was again transported back in time to what I remember feeling when I found out: a weird mix of wanting to fiercely believe that magic was absolutely real, wanting to remain young and innocent – and being utterly despondent that I wasn't as grown-up and mature as my older siblings, feeling foolish for not realizing that it was all pretend.
"You know, each one of your siblings asked me the same question you just did, only they didn't ask until they were about ten years old. Asking now, when you're only seven makes it a lot harder on you. But you asked me to tell you the truth. So, I did. I'm so sorry you're sad. But the magic of all of us wanting to create special excitement for you as you're growing up, the fact that we all wanted to keep this alive for you is still very, very real. And, you have to admit – it's kind of magical that you go to bed with a tooth under your pillow and when you wake up – it's gone and there's a dollar bill in it's place!"
He wasn't really having any of it at the moment. I knew that I just needed to love him up and hold the space for him and his emotions. And that I also needed to figure out how to not ruin every other bit of magic still left. Not yet. "Too soon!"
"Well, what about…" he trailed off.
I responded quickly, "Listen, magic is real as long as you want to continue to believe in it."
"What do you mean?"
"Well, your fourteen year old brother just lost a tooth last year, right?"
"Yeah."
"Well, he put his tooth under his pillow and the next morning what did he find?"
"A dollar."
"See? The magic still works as long as you believe in it. But if you're ready to stop believing in the Tooth Fairy – the magic stops."
Did I mention my kid is smart? He got it immediately and answered, "Well, I still believe in the magic  – ALL of it."
"Then it will still happen! Your Daddy will continue to be the hands and feet of the Tooth Fairy and when you lose a tooth and put it under your pillow, magically, a dollar will be there when you wake up."
This was not the end of the conversation, of course. We hashed this out for at least another 30 minutes. He had loads of questions, but was quick to only ask those he felt ready to hear answers to. He needed to ask his Dad what he did with all those teeth over the years. He wanted to be the one to let his older siblings know that he knew. He had to figure out why some older kids kept the magic alive, and others felt the need to crush it.
He woke up this morning and climbed into bed between us and announced. "I'm still sad about all of this, you know." I know, me too buddy, me too. But I still choose to believe. I choose to believe that the magic is not that a little fairy, (or in Puerto Rican tradition, a little mouse) picks up your lost tooth and leaves a gift in exchange. I choose to believe that the real magic lies in the desire to make this world with all of it's harsh realities a little softer around the edges – to sustain just a bit of wonder in our minds and hearts for as long as possible.
I don't know if you tell your kids that the Tooth Fairy is real or not. This isn't supposed to be a "how-to" or "I do it like this" kind of post. Just one Momma's way of finding her way with her littles about the big and not so big stuff of everyday living. And hoping that the decisions I've made in how I choose to speak to my children about magic and wonder keep these things alive in their minds and hearts for as long as they choose to believe.
Our world needs a little magic and wonder. Maybe now more than ever before.