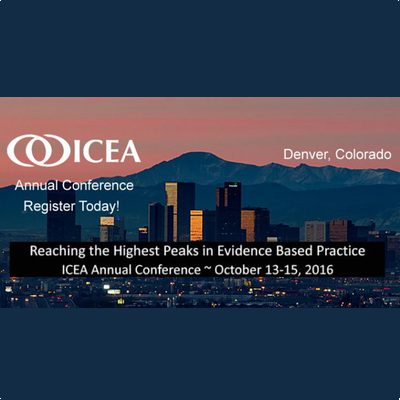 I just got back from the annual ICEA (International Childbirth Educator's Association) Conference in Denver, Colorado. I don't get to go every year, but I'd like to! These educational conferences are invaluable in keeping me current. Plus I love networking with other passionate-about-all-things-pregnancy-birth-and-parenting professionals! And snagging a boatload of my required continuing education credits for recertification is a nice perk.
This year, I was not just an attendee, but also a presenter. My breakout session, "Birth Plans: Helpful or Harmful?" went really well and the preliminary evaluations look good. I exchanged lots of business cards for what I hope will yield future collaborations. The other sessions that I attended were excellent and at the end of this post there's a shout-out to some of the amazing women behind the presentations I was lucky enough to attend. They are doing great work in the field of maternal-fetal health and wellness.
But for this post, I want to highlight something that I saw as a really wonderful, positive, and hopefully continuing trend: a small but enthusiastic group of young, energetic Millennials attended this conference. These are young women, choosing to become Childbirth Educators in the digital age, who understand the importance of face-to-face, community building, peer-to-peer education that can really only happen in person. It's just not the same via the Almighty Internet.
Sometimes I wonder how much longer I'll remain relevant in this field, or even, how much longer the field of childbirth education will exist. It's sad and scary to think about a time when I'll be "too old" to teach classes, or worse – a time when expectant parents will just stop coming altogether:
"We can read about it on the Internet!"

"There's so many YouTube births out there, we don't need to take a class…"

"I've written my Birth Plan – what else do I need?"
Today's expectant parents need connection – it's a hunger that they might not even be fully conscious of, a product of this time when a sense of community is linked to how many friends "like" their posts, or how many "followers" they have. In the months and weeks prior to becoming a family, expectant parents need real connection:
Real connection with their childbirth educator who can provide evidence-based, unbiased information and encourage them to become truly informed consumers and advocates for themselves, their babies and their births.
Real connection with a group of people who are experiencing the same emotions and feelings of vulnerability. These are people who will not trivialize or sensationalize those feelings. They get it.
Real connection with one another as a couple, devoting time and energy to focus on each other and their baby and to learn as much as they can about the powerful transformation that the birth experience can offer.
It fills me with hope to realize that there are women who represent the age demographic of the Mommas in my classes, just entering into this field. That there are women who still get the importance of continuing to teach these classes to their peers.
I'm considered the Lead Educator at the places where I work – which means I do the mentoring of new educators. And I love it! I'm always trying to recruit potential newbies from my classes. If I see a Momma that has a certain twinkle in her eye, I try to connect with her so I can plant the seed of becoming a Childbirth Educator someday.
But as Lead Educator, I know that the classes we offer have to be nothing short of amazing. They can't be fine. They can't be good. They have to be classes that are an incredible value to today's parents – not just in terms of money, but in terms of our most precious commodity – time.
When half of the class is wishing they were in their PJs, eating ice cream and binging on Netflix, and the other half of the class comes kicking and screaming because they think it's going to be "All about HER!" – that's a tough crowd. We have been charged with making our classes engaging, fun and entertaining. Oh, yeah, and don't forget –  they need to learn a ton, as well!
It's not an easy job. But none of the really important jobs ever are. Those of us working in this field know the potential that birth has to either positively or negatively affect the laboring woman's self-identity, self-confidence, relationship with her baby, her partner and herself – for the rest of her life. We get it. But does this generation get it?
Well, this past week I got to see a sample of women from this generation taking notes, asking questions, learning from those who've gone before them, soaking it all up – showing me in words and actions, that yes indeed, they do get it.
And that's good news for us all.
*I'm always, always trying to recruit younger women to do this work. If you've ever thought, "I wonder what's involved in becoming a Childbirth Educator…" please, contact me – I'd love to talk with you about next steps.
And as promised, here are some amazing women doing some incredible things in the world of birth. Please check them out!
Jennie Joseph – is working to change what happens in materno-toxic zones to help reduce pre-term birth, low birth weight babies, and other complications that women of color experience at higher rates than their white counterparts.
Barbara Harper – travels the globe with the mission of making waterbirth an available option for all women.
Amy Rebekah Chavez – I'll let you read all about who she is and what she does, but this woman is rad and she's got the science and education to back up her work around trauma and healing.
Elizabeth Petrucelli – recognizes the importance of discussing unexpected outcomes with the families that attend her classes and this is a message that resonates with me for sure.
Aynsley Babinski & Pam Barnes-Palty – understand the need for birth workers to take part in self-care so that they can better address the needs and concerns of the families that they work with.
Colleen Weeks – shares from her personal experience in the field for 35+ years, how to continue to grow as an educator over the arc of your career and how to support our families when they're hurting.
Amy Haderer-Swagman – I have to highlight this Momma-artist who was one of many great vendors from the conference, who made such gorgeous mandala birth art necklaces that I bought two of them!
This is not meant to be an exclusionary list – I was unable to attend all of the sessions that were available and I didn't get to attend the last day at all, so my apologies to all of the other fantastic presenters who I know put as much care and attention into their presentations as I did. If you check out this ICEA Conference page, you can read more about these other wonderful women and find out more about the goodness they're bringing into the world of birth.